It is important to know that you have chosen the best school to ensure that you or your family member learns the skills to become a safe and confident driver who is courteous to other drivers and focused on the road ahead.





In 2011, owner Karen Bolmer fulfilled her dream of starting her own driving school. Transferring her 25+ years of experience as a driving instructor for well-known area schools she has built KBee's into a company that allows her to better

accommodate

students' needs and schedules. Without 'big school rules' or a franchise behind her, she is able to customize her instruction methods based on the learning style and needs of the individual she is working with. Since its inception in 2011, KBee's Driving School has had an extremely high success rate and continues to grow and adapt to better serve the needs of the community.





Experience

KBee's Driving School Offers:
Beginner lessons and refresher courses
Free home pick-up and return service

Beautifully maintained 2016 Toyota Corolla for behind-the-wheel instruction and available for drivers driving test

Appointments available days, evenings, weekends

Specially designed programs for teenagers
Experienced and patient instruction for all, including special programs for special needs students, the nervous, and the elderly.
Meet Lead Instructor, Karen Bolmer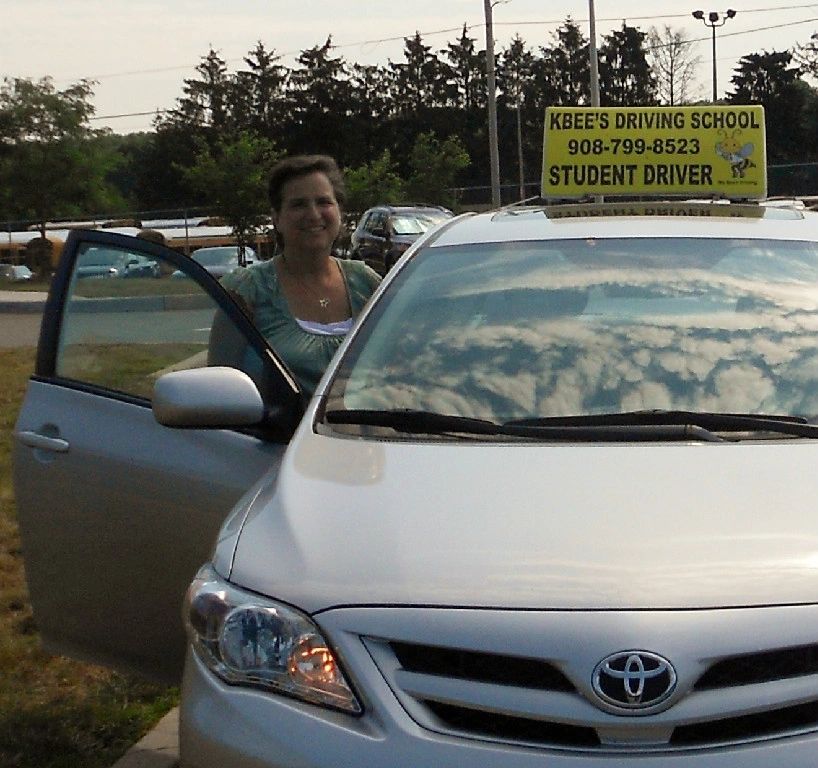 Karen Kline Bolmer has been a driving instructor in the state of New Jersey since 1986. After earning her certification she worked with several of NJ's largest driving schools before deciding to branch out on her own in 2011. She is often recognized and sought after for her ability to work with special needs and circumstances. Karen adapts her instruction to best serve those she is teaching, including those who are extremely nervous, students with learning disabilities, and the elderly.
As an instructor she is able to deliver learning experiences with patience; as a business owner, she treats clients like family and works to make scheduling easy and all-inclusive.
Her knowledge of driving rules and practices in New Jersey is extensive. As a member of the Driving School Association of NJ she maintains communication with instructors across the state and monitors state regulations and information to ensure her students are provided with the most current information.
Karen Bolmer at KBee's Driving School is dedicated to supporting the development of all students. She regularly participates in professional development in order to improve her skills and offer a better learning experience for the students.